Viral Launch Reviews
Viral Launch is one of the most popular Amazon seller tools in 2020, but is this reputation earned?
We have a lot of experience using the tool for a variety of purposes, including keyword research for clients and more.
Viral Launch is a complete and comprehensive package of tools, aiming to compete with the likes of Helium10, Shopkeeper, Sellics, CashCowPro etc, as opposed to more standalone, specialised solutions such as KeyworX.
How Does Viral Launch Work?
Viral launch markets themselves as a tool that allows sellers to scale by providing everything they need. The tool seems to pull a lot of information that is available on the front end of Amazon through scraping a platform into a database that you can use for keyword and product research.
The more well-known feature of Viral Launch it's product launch. It works by providing interested customers with a high discount in exchange for them purchasing the product. Previously, these customers would have been able to leave product reviews as well; however, Amazon incentivized reviews, making it impossible for these reviews to show up on the product listing. The idea behind the product launch is that you can start generating sales which will show Amazon you are relevant for a specific search term and Amazon will start organically indexing you for that search term.
The suite of tools that they provide seems to be competitive with a few other platforms such as Jungle Scout and Helium 10. Both platforms feature product research and keyword research tools as well as tracking tools. Viral Launch differentiates itself by providing its kinetic advertising tool.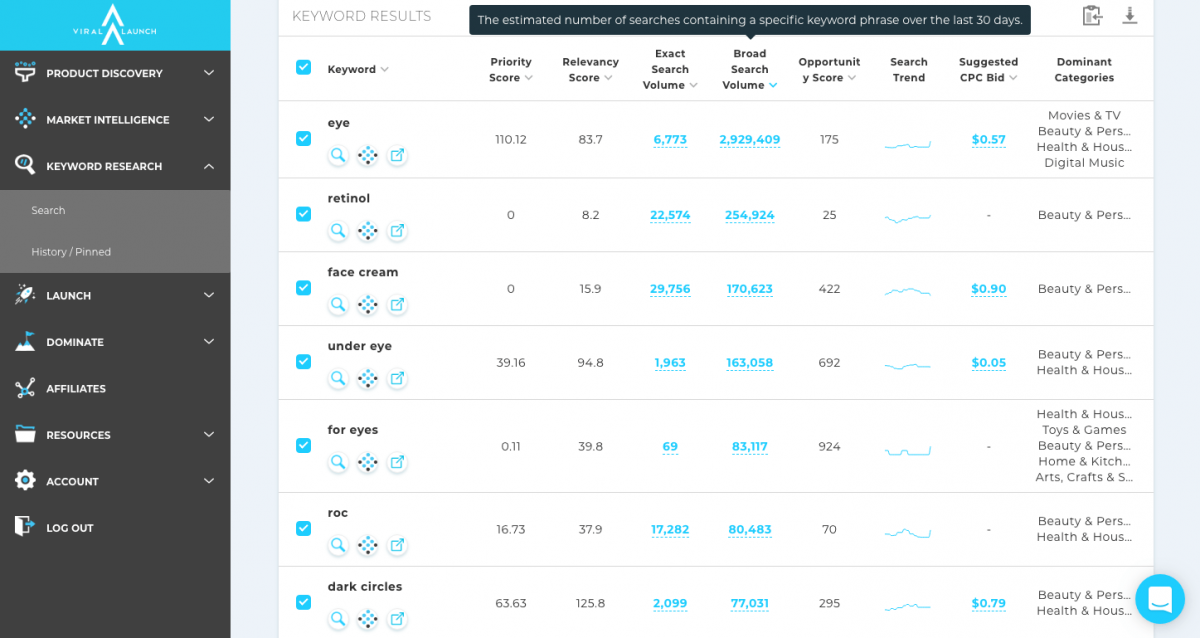 Viral Launch Product Discovery
You can search products by categories, monthly sales, review count or even sales patterns, shipping tier size and even initial investment cost, although I am not sure how accurate is the last one.
Then based on your filters Viral Launch is going to update the products it's showing to fit your criteria.
It even gives out a warning if they consider the product is very popular and there might be a lot of sellers entering that niche.
Based on my findings it does look like it's pretty accurate when it comes to determining the amount of sales on a given product.
Now I can't say if that's the case for the profit margin as that highly depends on your ability to source the product and the deal you get from your manufacturer.
Overall, I would rate this part with a solid 9/10 as I think some of the data it shows as profit, tier size or profit margin is not accurate enough and a fairly new FBA seller would take it for granted without doing a proper double check.
Now let's move on to the more interesting part, which is the Market Intelligence tool.
Viral Launch Market Intelligence
The second tool proposed is the Market Intelligence. It offers you, after finding a product through Product Discovery, to analyze the data of the chosen market. This will allow you either to validate your product idea, or to realize that the market does not suit you.
Market Intelligence provides very accurate data for a particular market. Number of monthly sales for each product, price, seller's margin, and monthly revenue. What will you project in the future, and imagine how you too can hope to win.
Viral Launch Product Launch
The product launch feature is what Viral Launch was previously best known for. To launch a product, you would make a certain number of coupons for a large product discount, like 90% or higher. Viral Launch would distribute those coupon codes among shoppers who were interested in receiving the product for a discount on their deal site.
The effects of their product launch does not seem to be as great as it previously was. Part of that could be due to changes in Amazon's algorithm which seems to value full price sales or sales with a minimum discount more than high-discounted purchases.
You can still use the service to get initial sales for your product, but it does not seem to have as great an impact for your ranking in the future. They specifically warn that your account should have existing sales not to alert Amazon to any potential issues, used to indicate that this product could cause potential account issues for newer sellers. You may get better results from an aggressive advertising campaign.
Viral Launch Keyword Research
It must be kept in mind that the search for keywords must be taken into account from the beginning to the end of your niche / product search. You have to put all the odds on your side to make your launch a success. The "Keyword Research" tool is therefore present and will allow you to analyze the monthly search volumes for each product. An excellent way to visualize the sales potential of a market. However, keep in mind that the higher the search volume, the more competition! The goal is to find a market with demand, and an "acceptable" competition.
In addition, this tool allows you to find ideas for related products. For example, on the screenshot above, you can see product ideas after typing "First aid kits". The 3rd proposal is "first aid kit for car". A very good keyword that allows you to offer a product more niche, with a search volume always interesting, but less competitive! Viral Launch also proposes to add the products you sell in its tool called "Launch". This one will allow you to follow the performances of your product in order to adapt it to your customers.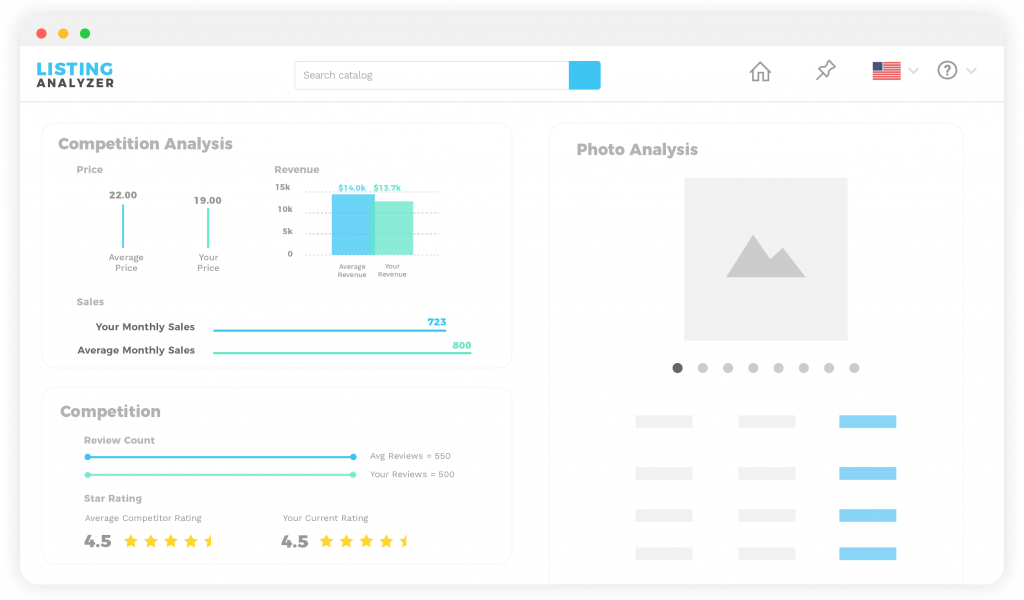 Viral Launch Listing Audit/Content
Understanding opportunities for improving your product listings is also important and Viral Launch seems to address this with a few separate tools and their suite. The first tool is the listing analyzer to compare your listing to competitor listings, but also to identify what content your listing has or is missing and ways it can be improved.
The Listing Builder tool helps you create written content for your listing by tracking a set number of keywords that are relevant for your product and how they're appearing within your listing content. It provides a score on your listing content, which keyword you use from the list, and the frequency that you used particular keywords.
Viral Launch Pricing and Discount with Coupon Code
What is the Viral Launch cost? In this section, we will go over the available plans and see if there is a Viral Launch free trial or a Viral Launch coupon code that you can use.
There is a Viral Launch trial will give you access to the Launchpad so you can try Viral Launch out before you pay for a regular subscription.
The 5 plans are as follows:
• MI Extension – $25/month
• Beginner – $59/month
• Pro – $99/month
• Brand Builder – $149/month
• Kinetic – $199/month
The Viral Launch trial does not require a credit card to get started. It lasts for a full 14 days, after which you will have to sign up for a premium plan to continue using the software.
Conclusion
Viral Launch could be a great tool for sellers that are just getting started on the Amazon platform. The variety of tools that they offer helps address a lot of the concerns and issues that you sellers will have. Advertising tools may also provide a lot of value to sellers that are not comfortable with paid advertising management on their own and provide enough value to help them get a good return on their advertising dollars.
More experienced sellers may have more success implementing other tool suites like Jungle Scout or Helium 10 that have been established in the marketplace for longer – or they may need to utilize multiple software offerings to create a tech stack that helps them get the most out of Amazon.
Overall, we would give Viral Launch a good product review, and recommend it to sellers who are looking for a single software solution that can provide a lot of value to them by addressing different areas of Amazon selling.