What is KWFinder?
KWFinder is one of the best keyword research tool that helps you to find long tail keywords with ease. You may compare KWFinder to other keyword tools such as Ahrefs, Rank Tracker and SEMrush to replace Google keyword tool (which we know that it no longer provide valuable information).
KWFinder is the newest keyword research tool on the block and it had grown from a startup to a highly competitive keyword research tool. Now, KWFinder is one of the most used keyword analysis tool used by both bloggers and SEO consultants due to the features and affordability. More on these as you progress along this article.
How good is KWFinder as a free keyword research tool? It's pretty good to be honest! Here are some reasons why you should be using KWFinder for SEO today:
• KWFinder offers forever free account that offers limited number of keyword research (daily)
• KWFinder is one of the easiest free keyword research tool to use in the market (low learning curve and very beginner friendly)
• Very accurate keyword research data reporting
• KWFinder is one of the most effective niche finder tools in the market (that is free)
KWFinder Main Features Review
KWFinder Keyword Identification
KWFinder helps you identify the low-cost, high-traffic keywords that will maximize your search ranking improvements per dollar spent. Helpfully, the figures the service provides you with are exact rather than in ranges, as is common with some applications.
KWFinder Competitor Analysis
Use 45 unique SEO metrics to learn what high-authority websites are doing well, what their strong and weak points are, and how your keyword selection compares to theirs. These metrics include domain authority, the number of external backlinks, the number of Facebook shares, visits per month, citation flow/trust flow (which are measures of page influence and reliability), and more.
KWFinder Ranking Improvements
Based on the keywords you use, KWFinder will tell you how much organic traffic potential your site has. You can then benchmark this data against SEO and ranking goals and tweak your approach to iteratively improve the performance of your websites.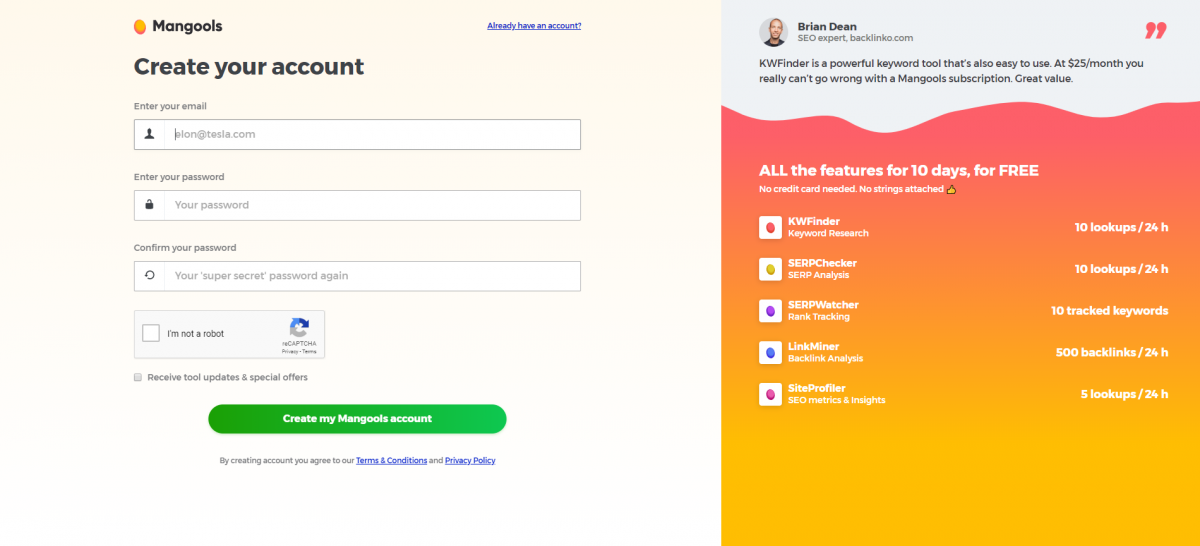 KWFinder List and Export
There are two options at the bottom by which you can select a group of kws and create a list. The list will be saved, and you can check it whenever you needed. You can find the competitiveness after ranking your websites later.
You can choose the kws and export it in CSV Format. There is an option to export the metrics of the kws too. You can do it to show the kw to your clients or share with your writers for productive works (learn more).
As told earlier, there are four other tools comes along with KWFinder and Serpwatcher is the ranking tracking tool. Once you selected the keywords and made an list, you can just call it like below and start tracking immediately without doing any manual work.
KWFinder Interface and In Use
KWFinder has a pretty comprehensive set of features but it manages to present all of your search and keyword data in a user-friendly interface that even beginners will find easy to use.
Quickly and easily toggle between services such as keyword search and domain search, see where your traffic is coming from, apply filters, differentiate between paid and organic searches, and see details on click-through rates, price per click, and total volumes all on a single, integrated dashboard.
KWFinder Support
The tech team can be reached round the clock via email or live chat. Users who are a bit more hands-on can dive right into the technical documentation provided in the official FAQs and KWFinder knowledgebase. There is also an active YouTube page that posts how-to's and general tutorials that are very thorough and broken down by topic.
For advanced help, such as for API access, you need to contact the tech team via an online form, and KWFinder handles such requests on a case-by-case basis.
KWFinder Plans and Pricing with Coupon Code
KWfinder annual plans are up to 40% cheaper than monthly plans, and you can subscribe to the basic plan, which is ideal for beginners, for about $30 per month with a year-long subscription. It gives you 100 keyword searches, 20 site lookups, and scraping of up to 2,000 backlinks per day, as well as up to 25 competitor keywords (the words that your competitors rank for) per search.
Small- to medium-sized businesses would be better off using the premium plan at about $40 per month for three users. This package provides 500 keyword searches, 70 site lookups, and scraping of up to 7,000 backlinks per day, along with unlimited competitor keywords per search.
The agency or enterprise plan that is tailored to large corporations and established businesses costs about $80 per month for 10 users. With this package, you can look up 1,200 keywords every day, scrape 15,000 backlinks every 24 hours, and access 700 suggestions of keywords related to your preferred search terms—based on KWFinder's recommendations—so that you can choose those most relevant to your niche or industry.
KWFinder Pros
• Probably the most intuitive UI of any keyword research tool on the market
• Strong data aggregation for keyword analysis
• Multiple research options for unique keyword opportunities
• Fast and high-quality support
• One of the cheapest keyword research tools you can buy
KWFinder Cons
• Potentially strict request limitations for heavy users
• Keyword results are capped (also affecting the import feature)
• SERP Checker preview cannot be customized
• Not ideal for competitor research
Final Verdict
KWFinder is very easy to use. You can use simple features when you start off and can get to the more advanced options once you are ready or once your needs change. Breaking down search results and keyword statistics based on region, ranking, or spend is exceptionally straightforward, and you can get right into using the tool as soon as you start your subscription, which is perhaps its biggest selling point.Blog: