What is Kartra? – Kartra Review
Kartra represents an all-in-one marketing platform that allows you to sell physical and digital products while enjoying the best of the best landing pages, sales funnels, marketing automation, analytics tagging, segmentation, and email marketing among others.
Created by Andy Jenkins and Mike Filsaime in 2018, Kartra is a blend of essential online marketing functions, all designed to integrate with each other seamlessly. Besides helping you build your business and run the online elements of the business, Kartra also allows you to access proven and professionally built sales funnel templates.
Kartra Main Features
• Funnel Builder / Done For Your Campaigns
Use done-for-you campaigns if you are new to marketing funnels or don't want to mess with market testing. All of the done-for-you campaigns have already been used successfully and are exclusive to Kartra.
With done-for-you, everything is setup. You can make little tweaks that cater specifically to your online business. Once you have completed the five simple steps, you are ready to send.
• Email Building
Kartra provides an email marketing platform as well as a function CRM. It has a great reputation for getting emails into people's primary inbox. It also receives a high reputation from Google which is hard to maintain.
While other email software has a hard time finding the inbox, the Kartra platform efficiently prioritizes your emails so you can increase engagement.
You can even set up a dynamic countdown timer that will sync in both your emails and sales pages.
• Landing Page
Kartra provides you with over one hundred pre-designed templates right out of the gate. These templates can be imported with just one click.
In just a matter of a few minutes, you can build a simple opt-in landing page from scratch using Kartra's page building machine. Drag and drop interface that is easy to use even if you are not tech-savvy.
• Sales Copy
While Kartra lacks in design features compared to other powerful sales page builder options, it makes up for it in ease of use.
One of the hardest parts of building lead pages is writing the sales copy. Kartra utilizes sales copy examples written by Frank Kern. The examples even include Frank's notes on why he chose a specific copy to help you become a better sales writer yourself. This is an incredible tool if you want to up your sales game. It is like having an expert there cheering you on (and at no additional cost!)
• Product and Payment Integrations
Kartra integrates with the following payment gateways: Authorize.net, Braintree, Paypal, Stripe. You can set up payment methods in the Kartra Integrations tab. Some of the payment options will work through their API for refunds, etc. For more information on payment, integrations check out the official Kartra documentation.
• Courses and Memberships
In addition to Kartra sales and marketing software, it also has the ability to create an online course and membership sites.
It takes care of usernames, passwords, and auto-generate login pages so you don't have to worry about the backend. Spend more time creating quality content and less time worrying about the setup.
Plus, all of your courses and membership content can be hosted in Karta. Text, images, audio, video, and more can be used to create dynamic content. You can even create drip feeds and Kartra membership levels.
• Lead Management
Easily track:
• pages viewed
• Forms
• help desk tickets
• video analytics
• products purchased (and returned)
The lead management Kartra feature allows you to fully track leads in every aspect of the business process. This Kartra feature is powerful and fully integrated within the software without any third-party help.
• Split Testing
If you are tired of split testing one piece of copy or image at a time, you will love the flexibility that Kartra provides. You can even create two totally different pages. Kartra will provide all the data you need to accurately split tests to improve your digital marketing skills.
• Tagging and Segmentation
You can use Kartra's automation features to segment and keep track of your email list. Easily create visual paths for different segment journeys. Kartra's analytics show you how effective your segmentation and tagging are every step of the way.
• Kartra Helpdesk
Along with all of the sales and marketing help, Kartra can help you customize your customer service. According to Kartra, it is five times cheaper to maintain customer satisfaction than to acquire a new customer.
With Kartra, you do not have to be a large site to have a virtual help desk. The Kartra helpdesk software allows you the option to help customers over the phone, email live chat, or Skype. It can place a floating icon on a Kartra page or an embedded Kartra Page on your WordPress site.
Kartra Pros
• It's an all-in-one online marketing platform
• It has inbuilt funnel templates
• It offers great value for your money
• It boasts unique features such as membership sites and the helpdesk
• Great for beginners
• It has a reliable video hosting capacity
• Pre-made online campaigns
• Pre-written sales copies
• Affiliate system
• Email autoresponder system inbuilt
• Many videos to learn from
Kartra Cons
• No third-party integrations
• There's not much known about Kartra since it's a new company
• It's expensive if you are a small business owner
• It's not great when it comes to physical products
Kartra Pricing and Discount with Coupons Code
Best of all, the Kartra pricing is among the most competitive on the market.
You can get a starter plan including all eleven tools and no "add-on" costs for as little as $79 per month!
And if you sign up with my affiliate link, you will also get my Kartra-Bonus and save even more money.
Overall, with Kartra, you get to save hundreds of dollars per month.
However, if you are still on the fence after all that, you should note that you don't have to pay the full price right off the bat: sign up now, and you can give Kartra a try for just $1!
Even after your first payment Kartra also comes with a 30-day money-back guarantee.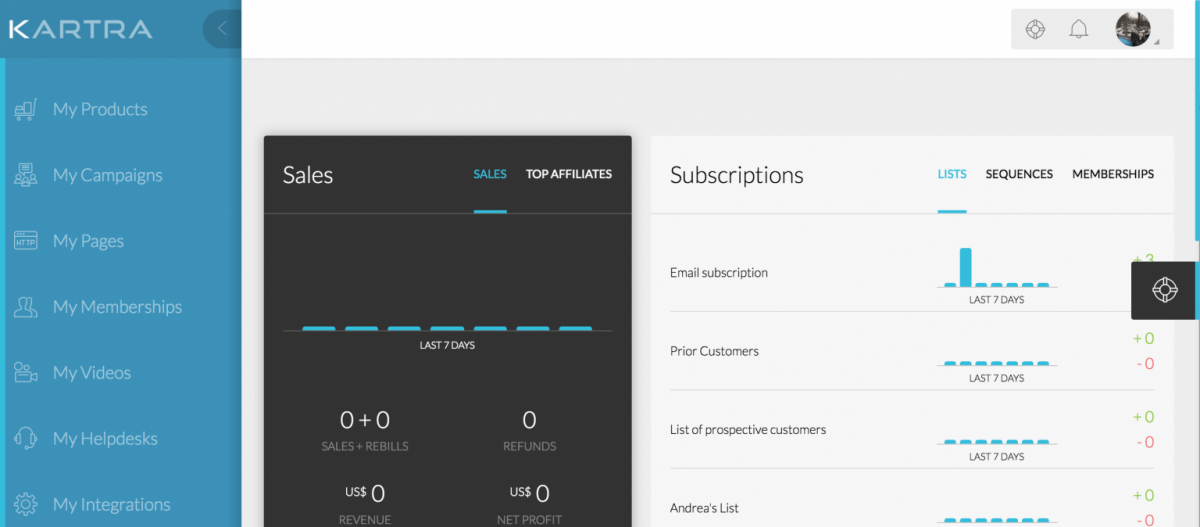 Kartra Review Conclusion
What Kartra has to offer is good as an add-on for an online business that already makes a bit of money and wants an all-in-one marketing solution.
It's also great for people that want to go online, have an income and don't want to bother with digital marketing that much. That's why marketers with large audiences like Frank Kern are pushing it so heavily.
Regardless of your position, it's great if you don't have a team of marketers, copywriters, and designers around to help you with your online business.