What is ASINspector?
In order to become successful on Amazon, merchants must know which products will sell and which tools to use, this ASINspector review will give you an overall idea of what can be done by using this tool. As new products are released, it can be difficult to determine which ones will generate a profit. ASINspector is an Amazon tool helping merchants make this determination. The tool increases ROI (return on investments) and conversions by providing the merchant with intelligent software. The need to manually research for products is eliminated because ASINspector immediately shows which products are in the greatest demand.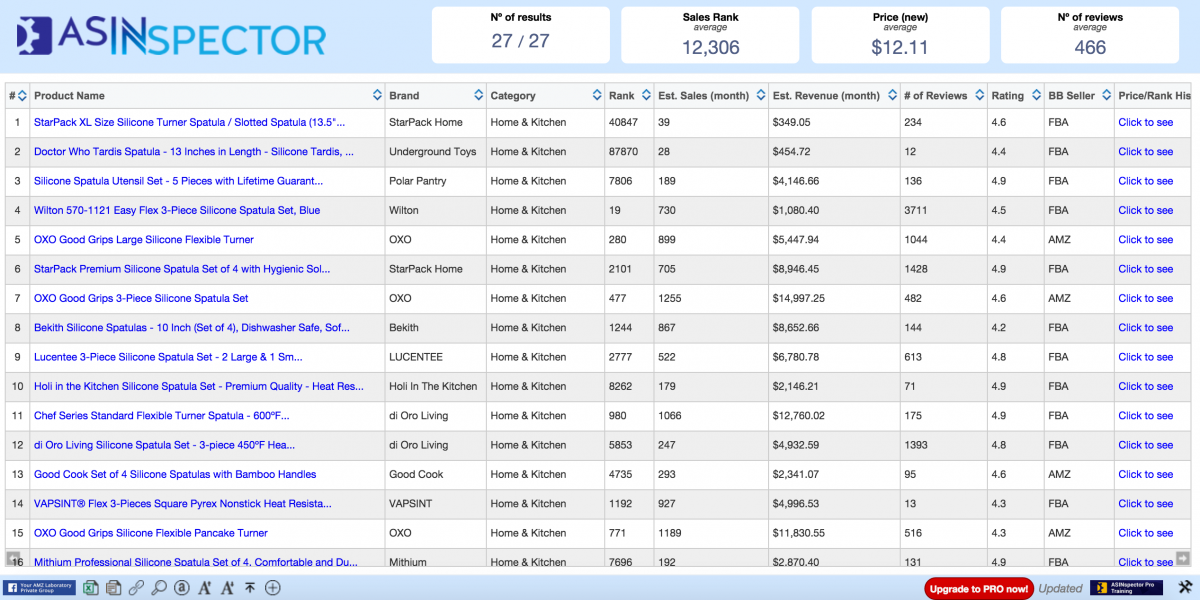 ASINspector Main Features Reviews
As one of the most versatile Amazon seller software, ASINspector has a couple of smart features that will substantially ease your Amazon selling activity. Apart from supplying you with a piece of particularly precise information regarding your profits, ASINspector allows you to install filters to make your searches even more explicit. Other features include saving and storing data as well as comparing the prices for different product categories. Take a look at the outlined ASINspector review and get a quick insight into what else this software offers.
BEST-SELLER RANKINGS
A perfect way to find out what to sell on Amazon and get a profit straight away is merely to use best-seller rankings . In particular, the feature makes it possible to discover especially popular goods. Such information might be a starting point for you to come up with the best-selling product idea.
ACCURATE REVENUE ESTIMATOR
The feature is designed to help you get a clear understanding of monthly sales volume . In general, you may access the information regarding overall Amazon sales and see how products are being sold on Amazon. All the data serves the only purpose: to help you get profit.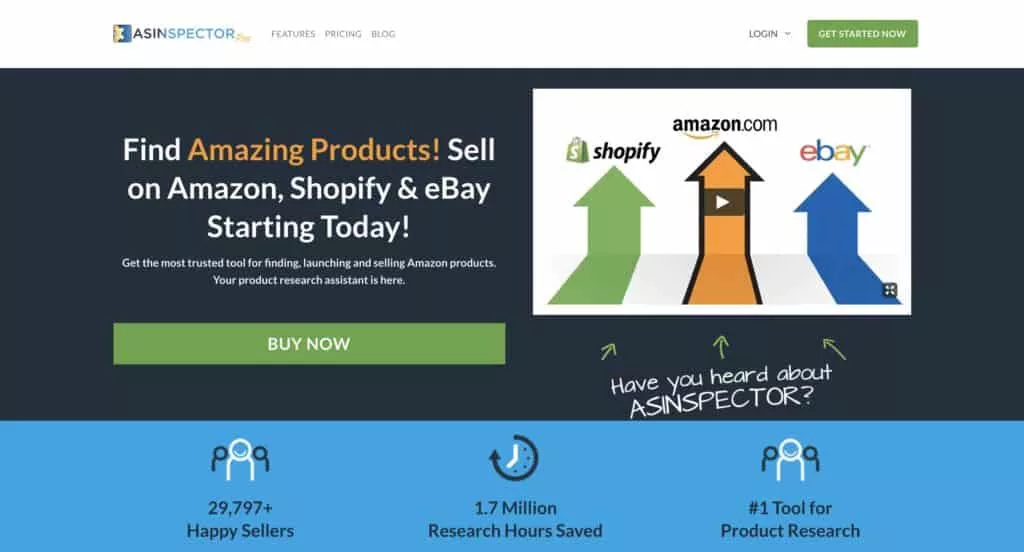 MOBILE SCAN
The feature is extremely convenient since it allows you to get information about some products in real-time . In other words, Mobile Scan made it possible to obtain the essential data about the product with the help of scanning its barcode. And the mobile scan is the app that makes this all work for you.
RESEARCH YOUR NICHE
Research your niche is another valuable feature that represents ASINspector. As for the tool's functionality, it allows you to research what products you need to focus on. More precisely, one can get a better understanding of the niche and its requirements, and thus adjust its product line-up.
INTELLIGENT FILTERS
As far as your Amazon search has to be advanced, you should never forget about filtering the information. Using filters implies narrowing your search down and thus making it way more effective. Determining exact parameters and supplying you with accurate data is what Intelligent filters manage correctly.
EASY PRODUCT SOURCING
Since you expect your sales to exceed the costs, you need to think of the product sourcing. ASINspector is designed to help you research different supplier companies and make up your mind with which one to choose. From now on, you can easily find the availability and cost of products from various suppliers.
LISTING ASSISTER
For a selling activity, creating suitable listings is vital. Listing assister is aimed at helping you build listings and get the most out of them. Even though you can probably develop listings on your own, addressing ASINspector will never be extra.
KEYWORD ANALYZER
A Keyword analyzer is one of the most brilliant features of ASINspector that makes it possible to find the most appropriate keywords to increase conversions. By using Google-Trend , you may instantly create successful listings and make sure that all your keywords will bring you profit.
ASINspector Pricing and Discount with Coupon Code
PRO LICENSE
$147 One time fee or $10/month recurring when 7 day trials ends. This plan includes:
– Amazon Product Table Datapoints (50+)
– FBA net payout calculator
– Search amazon product on stores (Walmart, Target etc)
– Get product prices from 5-10 different stores
– Open frequently bought together products
– Export to excel
– Load next or multiple amazon search pages
– Keyword trend and related Keywords
– Start a new search
– Amazing customer service
– Open all child / variations for a product
– Get inventory on hand and prices from all sellers
– Get product keywords
– Amazon product page analysis and profit calculator
– Import ASINs / UPCs
– Save favorite searches
– Phone UPC barcode scanner
– Brainstorm and discover random keywords
– Amazon "done for you" feature for bulk UPC upload
– Reverse search stores (Walmart, Home Depot, etc)
– Sponsored ads data
– On page quick view
– Bundled opportunities
– Instant net payout
– Listing assister
– Feature training
ASINspector Trial
It has 7-days free trial with credit card required.
Pros and cons of ASINspector
Like most tools, there are also two sides to ASINspector.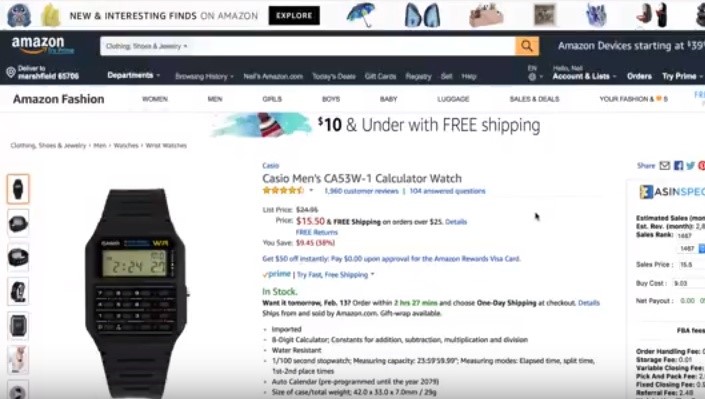 ASINspector Pros
– Provides downloadable data. You can access information just once where you can connect to the internet. Then you can download it and go off!This way, you can access data anywhere you want. And you can save searches for easy references later on!
– Re-adjust your sales plan. It comes with instant information about sales and revenue. This means can always be up-to-date with relevant changes. And you can re-adjust your original plan using a product's success rate as a basis.
– Customizable columns. You make up the rules. So it's up to you to choose the columns for the information you want.
– Incredible time-saver. Compared to manual product research, you can research in minutes!
– Start immediately. It's a chrome extension. No heavy chunks of software to download. And no lengthy subscription processes.
– Easy-to-use. It's also easy to understand. You won't have to rack your brains out in figuring out how it works. And if ever you need help, the pro version comes with Feature Training!
ASINspector Cons
– Quite costly. The license for the standard version costs $97 and $147 for the pro version. But as if that's not quite costly enough, you need to pay a monthly recurring fee of $10 if you want the pro version.
– Standard version doesn't show details for child variations. It doesn't analyze individual product pages.
– No new tabs in the new window. Want to search for many products at the same time? And do them in separate windows? Well, you can't do that.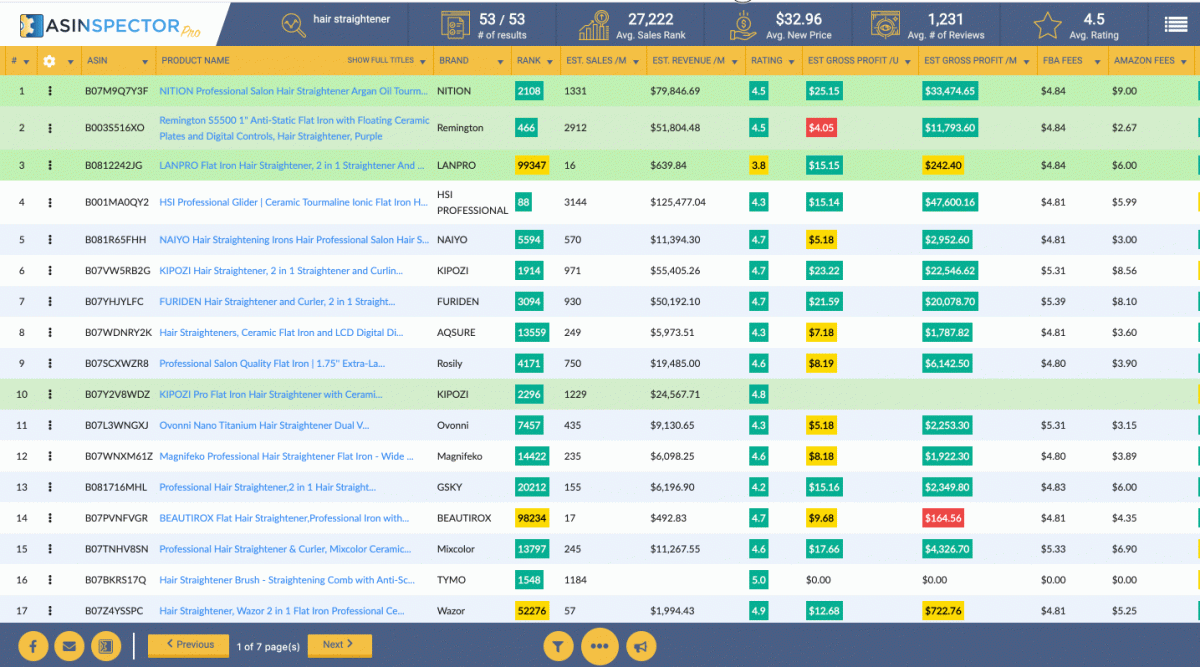 Final Thoughts
We all know how hard it is to find profitable products that we can sell on Amazon and other marketplaces too. But here with ASINspector you can do all that task in a super-easy way as it helps in finding Amazing Amazon Products that is having high sales conversion and gives you high ROI.